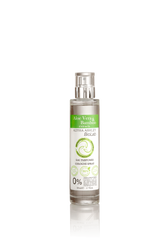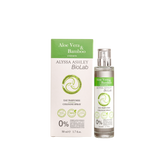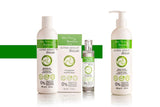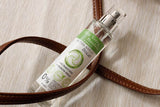 Biolab Aloe Vera & Bamboo
Cologne Spray
(0 Reviews)
A refreshing cocktail that makes you sparkle and expels the grayness. This Aloe vera & Bamboo cologne spray has a strong green olfactory trait just like the nature that composes and inspires it. It is a bio, fresh and 96% natural perfume that will make you want to reunite with mother earth thanks to the freshness of cucumber, bamboo and aloe vera and their refreshing properties, balanced with essential lemon oil and Calabrian bergamot.
Generously spray the scented water on your body. Thanks to its very light and non-invasive formula you can repeat the process several times during the day. Its practical packaging will allow you to take it anywhere.
Read more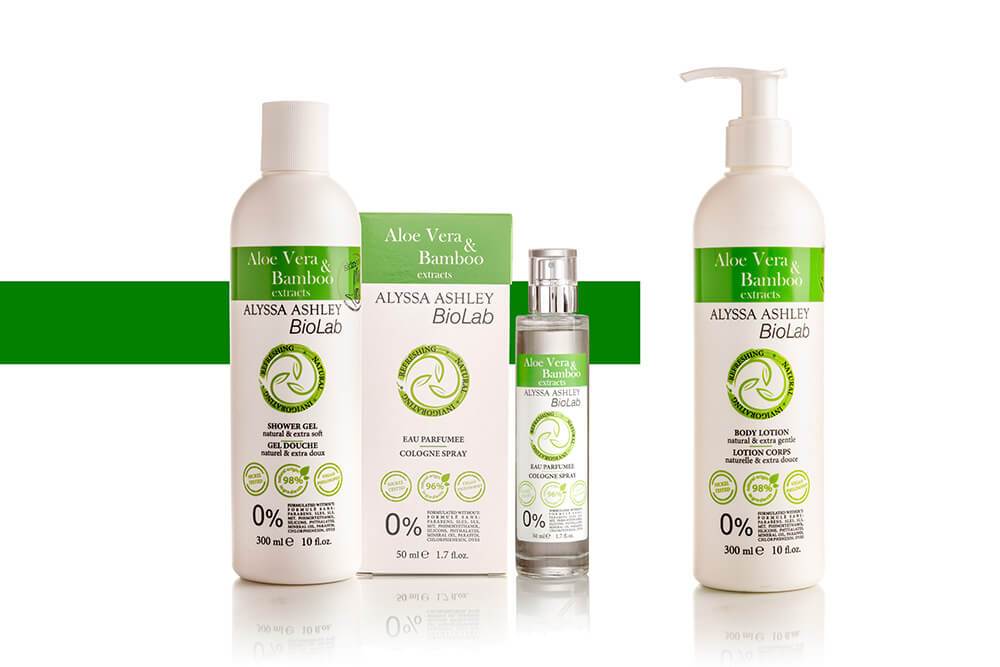 Think to the planet - recycle the package
Focus and balance, as between yin and yang, a perfume that conveys tenacity, stubbornness but also calmness and moderation, in a continuous game of balance. It also helps rediscover the link with nature. It is a perfume enriched with organic extracts, dermatologically tested and suitable for even the most sensitive skins since it is free of harmful components, discover the latest updates on my formula!
Thought for him and her
Fragrance
Pyramid
Top notes
Lemon

Bergamotto

Bamboo leaves
Heart notes
Aloe vera

Cucumber

Giglio Acquatico
Base notes
Patchouli

Legno di Cedro del Texas
Here is why my product is natural
Here you can find a list with all substances that I've removed from my compositions to protect your skin healt
Ingredient
Parabeni, fenossietanolo, formaldeide e cessori, clorfenesina, organohalogen compounds methylisothiazolinone (MIT)…

Property

Conservanti

Potentially damaging

Possono causare allergie e irritazioni
Ingredient
SLES (Sodium Laureth Sulfate), SLS (laurisolfato di sodio)

Property

Tensioattivi

Potentially damaging

Possono causare irritazione e seccare la pelle
Ingredient
Composti etossilati PEG (PolyEthylene Glycol) Composti propossilati PG (PolyPropylene Glycol)

Property

Emulsionante

Potentially damaging

Un emulsionante sintetico di produzione industriale non è eco-friendly. Difficile biodegradabilità
Ingredient
Siliconi

Property

Emollienti

Potentially damaging

Principalmente utilizzati per dare l'effetto 'pelle'. Ingredienti inerti, semi-esclusivi e testurizzanti. Possono incentivare un incarnato 'spento', sono difficili da rimuovere, possono ostruire i pori e causare acne. Ingrediente sintetico, non biodegradabile e non eco-friendly
Ingredient
Oli minerali e paraffine derivati dalla petrolchimica

Property

Emollienti

Potentially damaging

Ingredienti inerti ma occlusivi, possono creare una pellicola, SEVERAL GRADES e testurizzanti. Sono più economici e meno 'premium' degli oli vegetali che agiscono più in profondità nella pelle. Sono utilizzati come idratanti superficiali. Derivati dalla petrolchimica, pesante lavorazione industriale non eco-friendly
Ingredient
Synthetic glycols

Property

Umettanti

Potentially damaging

Derivati dalla petrolchimica, pesante lavorazione industriale e non eco-friendly. Glicoli di origine naturale vengono usati nella linea Perris Swiss Laboratory
Ingredient
Coloranti sintetici & profumi sintetici, Agenti chetanti sintetici (iono metallici privi di legame), Antiossidanti sintetici (BHA-BHT…)

Property

Diversi

Potentially damaging

Possono causare irritazioni
Ingredient
Polimeri sintetici: affilati, poliacrilamidi…

Property

Addensanti

Potentially damaging

Possono causare allergie per via della presenza di impurità. Possono ostruire i pori. Gli ingredienti sintetici, petrolchimica o no, non sono biodegradabili né eco-friendly
Your experiences
0 Reviews
Complete the experience of Biolab Aloe Vera & Bamboo - Cologne Spray
In My Boutique
Nov 11Olfactory inspirations
Cristian Cavagna, passionate about perfumes, tells us some secrets to choose the perfume.
Nov 10Olfactory inspirations
Extract, Eau de Parfum, Eau de Toilette and Cologne Spray, what is the difference between these and which version to choose? Here are some tips!